Christy Griner Hulsey is the Creative Director of Colonial House of Flowers, a family run boutique, founded in 1968 in South Georgia along the United States eastern seaboard in the little town of Statesboro - south of Atlanta, north of Savannah and with a growing international presence.
Using plants, flowers and a real story as her medium she specializes in creating intimate, high-end, bespoke, artistic partnerships, weddings, and event florals. She travels the globe teaching sold-out workshops, hosting fun pop-up shops, demonstrating and sharing herself in ways that focus on her old-world, painterly, classic yet whimsical garden style arrangements, which she shares on instagram @colonialhouseofflowers.
In effort to save it, she relied on the only resources she had mainly, a deep knowing she found inside! Thankful for those days sent to the garden by her Grandmother, the stories of stumps and forestry from her father, and the example of her mother's, a special education teacher's, tenacity to see a job through to the end, somehow Christy did it. The Colonial House of Flowers is alive today!

Christy was named the 2017 Mayesh Design Star, University of Georgia 40 Under 40 List, ranked among UGA's Bulldog 100 Fastest Growing Businesses, and Official Florist of Georgia Southern Athletics. She's represented the USDA on a trade mission to China with American Grown Flowers, among the Statesboro-Bulloch Leadership Class, and she'll visit an Ecuadorian farm this Fall to see the legacy of the legendary Rosaprima rose and attend the Expo-Flor Ecuador 2018 in Quito.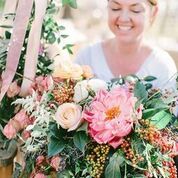 Christy's innate sense of story telling, honesty, authenticity, grace, and a bigger vision effortlessly translate into the magical world of flowers. Her signature work drips with soulful details and loose, wild, texture-full abandon. Plus, her keen eye and appreciation of beauty in all stages of the drive to perfection, life and beauty have made her one of the south's most sought after designers.
Family, friends, clients, and colleagues love Christy for her balanced, natural, humble, whimsical and cheerfully peculiar approach to art and life. Believing good fun, strong women, genuine kindness, tight friendships and tough families are what make the world go around, she's original, loyal, tenacious, quiet at times and artistic.